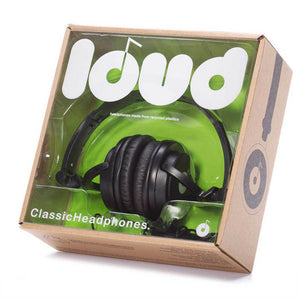 loud classic headphones
Loud Classic Comfy Headphones.
The Loud Classic over the ear headphones Headphones are made from recycled plastics. As always they are COMFY and LOUD.
Loud Headphones set out to create quality earbuds that won't break the bank. One of the ways they are able to achieve this is to reduce the cost of packaging to it's minimum. This allows Loud to put that extra money back into products and ensures Loud Headphones hit all the right notes! This also means that for every pair of headphones sold Loud will donate $1 to the Hear No Evil project benefitting the deaf and hearing impaired. LOUD is proud to have partnered with the cochlear implant foundation Let Them Hear to help put the $1 to good use. For more information on cochlear implants please visit www.letthemhear.org and we thank you for your purchase.
Specs: 


Finish: Black housings / mic and Black wire / L jack.


Driver Unit: 40MM


Impedance:32ohms+/-15%


Sensitivity: 58dB +/-2dB


Frequency Response:20Hz-20KHz


Max.Input Power: 50mw


Audio Jack:3.5mm, stereo,L Jack


MADE FROM RECYCLED PLASTICS


Audio Adapter Converter 6.5mm Male Stereo to 3.5 Female